Delhi Capitals captain Rishabh Pant's girlfriend Isha Negi arrived to watch the Delhi-Kolkata match on Thursday. In the stands, Isha appeared with Rishabh's sister Sakshi.
Delhi captain Rishabh Pant dominated the wicketkeeping in the match against Kolkata Knight Riders (KKR). Apart from taking a brilliant catch of Shreyas, Pant stumped Andre Russell.
The teams of Delhi Capitals (DC) and Kolkata Knight Riders (KKR) were faces to face in the 41st match of the Indian Premier League (IPL) 2022. Delhi captain Rishabh Pant dominated in this match. Pant performed brilliantly behind the wicket, apart from taking a brilliant catch, stumping Andre Russell.
Shreyas caught first
Rishabh Pant took a brilliant catch of Kolkata captain Shreyas Iyer off Kuldeep Yadav in the 14th over of the innings. Shreyas wanted to play the ball going outside the off-stump in the third man area, but the ball went behind the wicket, hitting the bat. Pant, who was there, took possession of the ball about a few centimeters before the ground. Shreyas was also surprised to see this catch of Pant.
Stumped Russell
After this, Pant also stumped all-rounder Russell after two balls in the 14th over itself. Russell Chinaman wanted to play a big shot by going ahead on the bowling of Kuldeep Yadav. However, Russell remained unlucky as wicketkeeper Rishabh Pant could not catch the ball completely. But despite the ball falling from his glove, it hit the stump, and Russell was found outside the crease.
Nitish Rana hits half-century
Batting first after losing the toss, Kolkata Knight Riders (KKR) scored 146 runs for 9 wickets in 20 overs. Nitish Rana scored 57 runs in 34 balls with the help of three fours and four sixes. Apart from this, Shreyas Iyer contributed 42 and Rinku Singh contributed 23 runs. For Delhi Capitals, Kuldeep Yadav had the most four players and Mustafizur Rahman had three players. In reply, Delhi won by scoring 150/4 with six balls to spare.
Isha Negi was seen cheering on Pant
Delhi Capitals and Kolkata Knight Riders met on Thursday in the Indian Premier League 2022. Even before the start of this match held at Wankhede Ground in Mumbai, a picture was covered on social media. Delhi Capitals captain Rishabh Pant's girlfriend Isha Negi and her sister Sakshi Pant came to see this match.
When the match started, both were shown on the TV screen. Isha Negi and Sakshi Pant were sitting together in the stands and talking to each other. After this, when Delhi Capitals got success in the beginning, then both jumped with joy and clapped fiercely.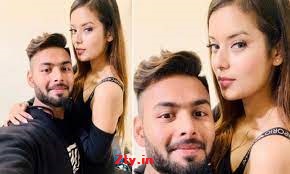 Rishabh Pant and Isha Negi are dating each other for a long time. And have also openly expressed love. Just a few days ago when Isha Negi had a birthday, Rishabh shared a post for her on Instagram. In response, Isha Negi also wished Rishabh Pant I love you.
Homepage: Click Here
Also Read: